Sell my gold today, or is it not a good time? We understand it can be confusing to know when to realise that cash hidden in unwanted gold jewellery or other items. As highly qualified and experienced jewellers, you can trust Divorce your Jewellery to give you trustworthy advice.
Record gold prices + High Australian dollar.
Right now is an exceptional time to think seriously about getting an appraisal for your unwanted gold. You might be pleasantly surprised how much it is worth, even for a small item.
In the past gold prices have been relatively high (yay) but our Australian dollar was low ( not so yay). However, at the moment, we have the perfect storm of both record-high gold prices AND a high performing Australian dollar. Sell my gold today and reap the rewards.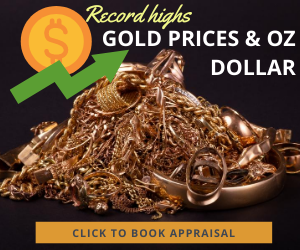 Sell my gold: How can I do this?
Excellent question, and especially so in these odd COVID times. 
We offer a free postal appraisal service called PostSafe. As the name suggests, it is 100% safe as it is tracked all the way and is covered by our insurance, so there is no risk to you.
Get in touch with our helpful Divorce your Jewellery team to get your complimentary PostSafe pack.
If you are in Sydney, you may wish to visit us at either our Brookvale or Warringah Mall locations. Rest assured we are COVID-safe and are following best practice procedures to ensure our customers' safety.