Can I sell an engagement ring without documentation?
Can you sell engagement ring without documentation or its official papers? Great question! 😁  At Divorce your Jewellery we are jewellers not pawnbrokers, therefore we can expertly appraise your item. So you can sell an engagement ring without documentation.
At Divorce Your Jewellery, it's reassuring that our clients can come to us in confidence even when they may not have the documentation they once had detailing the specifics about their rings and other diamond jewellery.
Can I sell an engagement ring without documentation?
If the documentation has been destroyed or is no longer accessible to you because it resides with an ex who is not particularly cooperative, be assured we will nonetheless be able to make an offer to you based on our careful evaluation of your jewellery items. So do not hesitate to come in, even if you're documentation is no longer available to you. Our friendly and efficient staff will be more than happy to evaluate your items and give you a quick quote. At Divorce Your Jewellery, you can be sure you're getting the best price and the best service possible to assist you in selling your unwanted goods.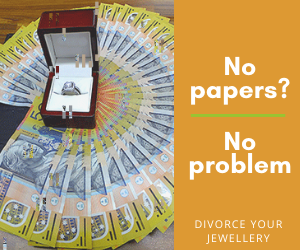 What papers should I bring?
Of course, if you do have diamond certification, such as a GIA certificate or other similar documentation, it's always a positive thing to bring with you to our shops.
The same applies for any insurance evaluations you may have that detail the characteristics of the item in question.
Sell Engagement Ring without documentation: book appraisal.
Don't wait any longer, get that engagement ring or other jewellery that's no longer wanted appraised and turn it into money!
We offer convenient options to receive your appraisal.
Start a chat on Messenger with us.
Or give us a call. 1300 468 465
Our helpful team looks forward to hearing from you.